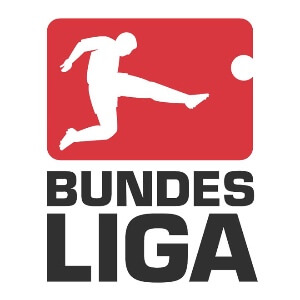 The 56th season of Bundesliga began on the 24th August 2018, and will finish on the 18th May 2019. As usual, 18 teams are competing for the title – and Bayern München are considered to be favorites to win. Bayern München are title defenders from last season, where they managed to win with an impressive 21 points more than Schalke 04 that came in on second place.
Hamburger and FC Köln had to leave Bundesliga last season, and has been replaced with Fortuna Düsseldorf and FC Nürnberg. Both of the newcomers to the german league are however long shots when it comes to bringing home the title, both coming in at the odds of 2000/1 at Unibet.
According to the winner's odds from Bet365, Bayern Munich will end up on top of the table this year as well. Last season it was Schalke and Hoffenheim that came in second and third, and according to the odds we can expect Borussia Dortmund, Bayer Leverkusen and RB Leipzig to challenge them in the top.
Winner odds Bundesliga  2018/19
| Winner | Odds |
| --- | --- |
| Bayern München | 1/7 |
| Borussia Dortmund | 8/1 |
| Bayer Leverkusen | 28/1 |
| RB Leipzig |  35/1 |
| Schalke |  40/1 |
| Hoffenheim | 100/1 |
| Borussia M'gladbach |  200/1 |
| VFB Stuttgart |  200/1 |
| Augsburg |  500/1 |
| Eintracht Frankfurt |  500/1 |
| Hertha Berlin |  500/1 |
| Wolfsburg |  500/1 |
| Werder Bremen |  500/1 |
| Hannover 96 | 1000/1 |
| Mainz | 1000/1 |
| SC Freiburg | 1000/1 |
| FC Nürnberg | 2000/1 |
| Fortuna Düsseldorf | 2000/1 |
Odds from Unibet 24/7-18
Bet on Bundesliga 2018/19 at Unibet
Terms & conditions applies
Schedule and results
As we mentioned earlier, Bundesliga spans from fall to spring. The league consists of 18 teams, which means that 35 rounds is played during one season. When all the games are played, and the rounds are finished – the team with the most points will win the league title.
Here at Oddsexpert , we provide all of the latest games and results. You'll find the latest results and stats above. Tune in regularly to keep up with the German league, which is ranked as one of the best in the world!
Table – follow your team
The team that is placed on top of the table when the season is over will win the league, but there's more at stake than just the league title. The top three teams will qualify directly for Champions League, and team number four will get to play in the play-offs for Champions League. Teams number 5 and 6 will qualify for the group stage of Europa League, and team number seven will get to play in the third qualifier round of EL.
In the bottom of the table, the last two teams will be degraded to 2Bundesliga. The team that ends up 3rd from the bottom will get to play against a team from 2Bundesliga – the winner will get a spot in Bundesliga, and the lose r will play the following season in 2Bundesliga.
The current table is always available on this page, so that you always can follow your favorite team.
Bundesliga odds at Oddsexpert
Here at Oddsexpert, we provide you with the best odds for every single Bundesliga game. Simply head over to our odds comparison in order to find the best odds!
Live stream from Bundesliga
There are Bundesliga live streams available online, so that you can follow the games that you're interested in. You can find live streams from Bundesliga on a few different betting sites, you'll find a list of some of them below:
Facts about Bundesliga
Bundesliga – also known as 1Bundesliga, Fußball-Bundesliga or die Liga – is the highest football league in Germany. The league is ranked pretty high in Europe, although it does not quite reach the same level as Premier League, La Liga or Serie A. It is however the league that attracts most spectators. During the 2007/08 season Bundesliga had an average of 36 612 spectators per game, compared to Premier League's 36 076, La Liga's 29 124 and Serie A's 23 180.
During the 2012/13 season, the German teams Borussia Dortmund and Bayern Munich played against each other in the Champions League final. That goes to show that the german football is competitive and can challenge the other, bigger leagues such as Premier League.
If you're a fan of german football, make sure not to miss out on the german cups DFB-pokal, Liga-Pokal and DFL-supercup, where the winners of Bundesliga will play against the winner of the DFB-pokal.
Offencive league
Two of the key points that has made Bundesliga such a success is first of all the offensive and high-quality football, but also the cheap ticket prizes. In Germany, the spectators wants to see goals being scored – and Bundesliga raraly disappoints.
Der klassiker: Borussia Dortmund – Bayern Munich
Like all big leagues, Bundesliga has an "El Clasico" of its own – called Der Klassiker. In Der klassiker, t's the two league giants that faces each other: Borussia Dortmund and Bayern Munich.
Even though it's not a "hate-game" of big proportions, or a classical game historically speaking, it is still one of the most important games in the league.
Bundesliga winners
Unsurprisingly, Bayern Munich is the team that has won the most Bundesliga titles throughout the years. As of right now, the team has a total of 26 league titles. The second place int he title race is shared between Borussia Dortmund and Borussia Mönchengladbach with 5 titles each. This only goes to show just how superior Bayern Munich has been in the league.