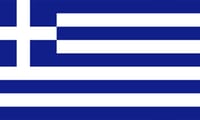 Greece play their home matches at Olympiako Stadio Spyros Louis in Athens that has a capacity of 71030 attendies.
Greece faced Liechtenstein in the last round, in a match that ended with a 1-1 tie.
Greece will face Italy in the next round at away, with kick-off at 19:45 the 12/10.
League titles: 0
Home Arena: Olympiako Stadio Spyros Louis
Capacity: 71030
City: Athens
Underlag: Gräs