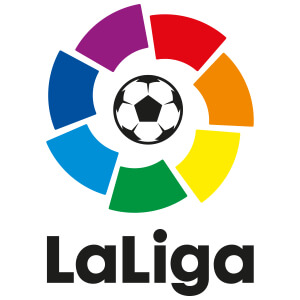 The 89th edition of La Liga will start in August 2019, and will be played between 20 teams. Since last season, Girona, Huesca and Rayo Vallecano have left the Spanish High Court, leaving room for Osasuna, Granada and Mallorca.
For many years, Barcelona and Real Madrid has been the teams to frequent the top places of the league. This year, Barcelona are the defending champions after winning their 26th title last season. They won the league 11 points ahead of Atlético Madrid, which is an impressive effort to say the least.
Looking at the odds for the coming season, we seem to have another even race between Real Madrid and Barcelona to look forward to – even though Barcelona seems to be coming out on top this season as well.
Winner odds La Liga 2019/20
| Winner | Odds |
| --- | --- |
| Barcelona | 1/2 |
| Real Madrid | 7/4 |
| Atlético Madrid | 20/1 |
| Valencia | 100/1 |
| Sevilla | 150/1 |
| Athletic Club Bilbao | 500/1 |
| Real Betis | 500/1 |
| Real Sociedad | 500/1 |
| Villareal | 500/1 |
| Espanyol | 750/1 |
| Getafe | 750/1 |
| Celta Vigo | 1000/1 |
| Eibar | 1000/1 |
| Alavés | 1500/1 |
| Leganés | 2500/1 |
| Levante | 2500/1 |
| Valladolid | 2500/1 |
| Granada CF | 3000/1 |
| Mallorca | 3000/1 |
| Osasuna | 3000/1 |
Odds from Unibet 25/6 2019
Bet on La Liga 2019/20 at Unibet
Terms & conditions applies
Follow La Liga with Oddsexpert
Here at Oddsexpert, we are working hard to provide you with all of the latest information from La Liga. You'll find betting tips for different games throughout the league, and we are also providing the latest results, scores, odds and schedules for the league.
Facts about La Liga
La Liga, or Primera División which it's really called, is the highest league in Spain and is ranked alongside the Premier League as the world's best league. What distinguishes the Spanish league is and the offensive football which means entertaining football with many goals per game, unlike the English league where the defensive usually is prioritized.
Barcelona and Real Madrid to dominate La Liga
La Liga is dominated by the two major teams, FC Barcelona and Real Madrid, that has strengthened their position in the league in the 21st century. Nowadays, discussions about La Liga are usually about which of these two major teams will win the title.
Previously, there have been opponents like Valencia, who won the 2002 and 2004 league. But because of the economic benefits that Barcelona and Real Madrid has, it is nowadays considered almost impossible for any of the other teams to win the league title.
Real Madrid with the most league titles
Real Madrid is the club that has been most successful since the league started in 1929, with 33 league titles. In second place of the league title count, not entirely surprising, is Barcelona with 21 titles.
But even though Real Madrid has been the most successful club in history, Barcelona has impressed the most in the 21st century. The fact that players like Lionel Messi, Andrés Iniesta and Xavi Hernández has been the hub of the team has of course been a big contributing fact for this. And even if Real Madrid won the 2012 league, Barcelona is considered to be the best team of the 21st century – and has dominated both in La Liga and in Europe
How La Liga is played
La Liga is a straight line league, and is played without playoffs. 20 different teams participate, which means that the league is played over 38 rounds. Each season, the three teams that finishes last will be downgraded into Segunda División, the second highest league in Spain.
The top four teams will qualify for Champions League, and directly enters the group stage there. The teams that are place fifth and sixth will qualify to play in Europa League.